Learning, Inspiring, Sharing
Payment Driven Payment Model One-Day Intensive Training- Ohio Jan. 29
Recorded On: 10/02/2018
How to Register in ahcancalED
Easy as 1, 2, 3 !
click the
button found in the upper right corner of your screen or follow these three easy steps below!
Step 1

Go to the ahcancalED site at https://educate.ahcancal.org/and LOG IN using the orange button in the upper left hand corner.

Use your usual user name and password that you would use for LTC Trend Tracker or the AHCA NCAL website.

If you cannot remember your login- go here and follow the steps to access your account.

If you are new: click CREATE ACCOUNT button and follow the directions on this page.


Step 2




New Users: Complete all necessary fields on the "Create an account" screen and;


*Please note* you must add your member facility name to your login*

Once you are in and can see your name in the upper left hand corner, you are ready to add this product to your cart and checkout.

Step 3

Almost there!

Click the green "register" button.

Click the blue COMPLETE REGISTRATION NOW, Fill out the registration and payment details and voila! The products are yours to use indefinitely and can be found in your dashboard (shown on the left hand side of the web page).




Need further help? Email us at educate@ahca.org

We'll walk you through it.
Event Date: January 29th, 2019 | Independence, Ohio
Registration Fees:
1 registration- $350
$250 - 2- 5 Registrants attend
$200 - 6 or more Registrants attend
Group Registrations (volume discount applies if more than one person attends): Group Registrations (volume discount applies if more than one person attends): To register your group from a facility or corporate office, contact educate@ahca.org to receive registration and payment instructions. Once the members of the group have been registered and payment processed, each individual in the group will receive an email with instructions on how to activate their registration using the group code.
Please note: only provider members of AHCA and the Ohio Health Care Association may register and attend.
Who should register: To be successful with PDPM, Administrators, MDS/billing staff, nurses/DONs, and therapists must be included in the training and education process.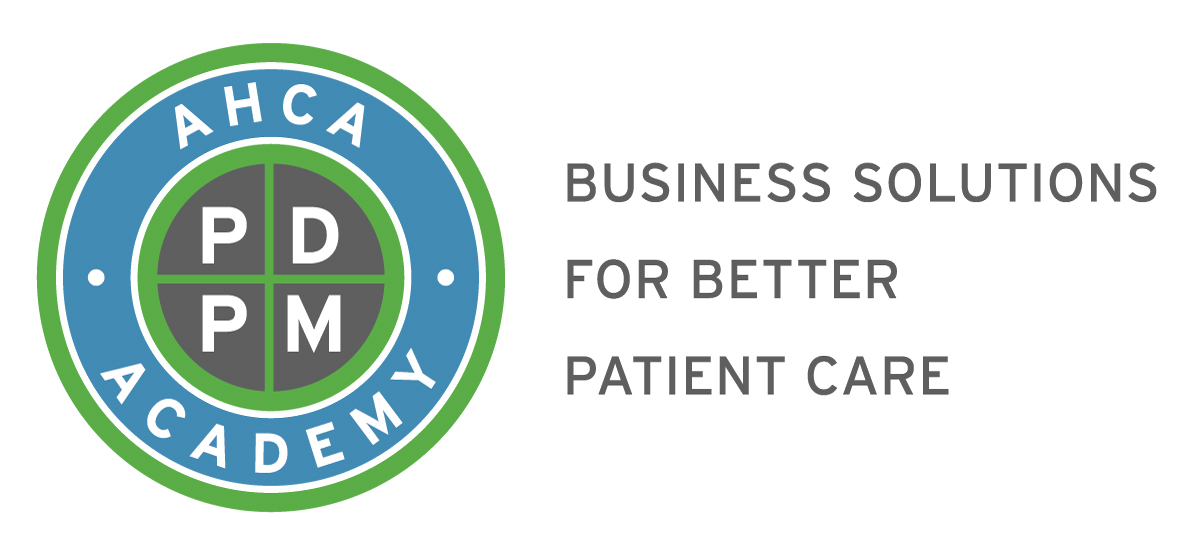 Katherine Almendinger, MS
Research Director, AHCA
Katherine Almendinger is a Research Director at the American Health Care Association. She supports AHCA's members by distilling policy, legislative, and regulatory oversight changes into actionable information used for quality improvement and successful change navigation. She uses data to understand how these changes impact the long-term and post-acute care sector, our membership, and residents receiving care. Katherine is also responsible for the acquisition, management, and legal compliance of AHCA's use of restricted datasets from CMS.
Prior to joining the AHCA team, Katherine worked at the Research Data Assistance Center (ResDAC), where she helped researchers use CMS data to improve program administration and the quality of care its beneficiaries receive. She also has experience in implementing an infectious disease biomarkers study, computational biology, research in genetic metabolic disorders and orthopedic biochemistry, and was a Peace Corps volunteer. She has worked at the University of Minnesota, the Broad Institute of MIT & Harvard, Boston Children's Hospital, and Massachusetts General Hospital. She volunteers at the Smithsonian National Museum of Natural History and in after school science clubs to share her love of complex systems, problem solving, and using data to make the world a better place.
Education: Johns Hopkins University - DrPH (in progress), health policy & management; Harvard School of Public Health - MS, epidemiology; University of Minnesota - BS, chemistry, molecular biology.
$i++ ?>
Robin L. Hillier, CPA, STNA, LNHA, RAC-MT
Director Reimbursement and Quality Metrics, Welcome Nursing Home
Robin L. Hillier is a healthcare executive dedicated to post-acute and long term care. She is a Certified Public Accountant, a State Tested Nursing Assistant, a Licensed Nursing Home Administrator, and is Resident Assessment Coordinator Certified and a Master Teacher through the American Association of Nurse Assessment Coordination (AANAC). Throughout her career she has been involved in all aspects of facility operations, including ownership roles. She is currently the Director of Reimbursement and Quality Metrics for Welcome Nursing Home in Oberlin, Ohio, and President of RLH Consulting, which provides operational and reimbursement consulting to providers of skilled nursing, assisted living and intellectual or developmental disabilities. Ms. Hillier served on the Board of Governors and Executive Committee of the American Health Care Association from 2010 through 2017, and currently serves on the Reimbursement Cabinet. She is Past Chair of both the Ohio Health Care Association (OHCA) and its' Educational Foundation (EFOHCA). She also serves on the AANAC Expert Advisory Panel. Ms. Hillier was a recipient of the 2015 Joe Warner Patient Advocacy award, the 2004 OHCA President's award, and the 2018 AANAC Contributor of the Year. She is a graduate of both the AHCA Future Leader and Political Ambassador programs and represented AHCA at the 2014 White House Summit on Working Families.
$i++ ?>
Provider members of AHCA and the Ohio Health Care Association who register for the PDPM ACADEMY will have access to:
PDPM 101 workshop webinar
One-day, in-person training workshop in your state
Monthly workshop webinars on key topics and emerging PDPM issues
"How To" webinars on implementing additional tools developed by AHCA
At the in-person workshop, participants will go in-depth with hands on experiential learning by:
Aligning buildings and companies to transition to PDPM using AHCA's PDPM Readiness Tools© and the related core competencies;
Classifying residents in case mix groups;
Assessing market position in a PDPM environment; and
Using organizational, business, and management tools to reconfigure business planning.
In order for the in-person training to be effective and meaningful to the participates it is imperative that registered providers watch a series of webinars in advance. PDPM Academy Trainers will assume participants have watched six pre-recorded webinars to ensure they have foundational PDPM knowledge for a hands-on workshop experience. Because the pre-recorded webinars are in short increments, Academy participants may watch as they have time rather than watching a single long webinar.
Webinar Topics:
PDPM Academy Workshop – What to Expect (5 minutes)
PDPM Basics (32 minutes)
PDPM Resident Case Examples (20 minutes)
SNF Benefit, SNF Programs and Interactions with PDPM Version 1 (17 minutes)
How to Use CMS ICD-10 PDPM Crosswalk Tables (22 minutes)
Administrators' Role in PDPM Transition – Version 1 (19 minutes)
How to Access the Pre-Requisite Webinars: SNF Provider Members can access the Pre-Requisite Webinars at https://educate.ahcancal.org/p/pdpmpre-reqs
Components visible upon registration.

RETURN TO HOME