Learning, Inspiring, Sharing
Virtual AHCA Patient Driven Payment Model Training

How to Register in ahcancalED
Easy as 1, 2, 3 !
click the

button found in the upper right corner of your screen or follow these three easy steps below!
Step 1

Go to the ahcancalED site at https://educate.ahcancal.org/and LOG IN using the orange button in the upper left hand corner.

Use your usual user name and password that you would use for LTC Trend Tracker or the AHCA NCAL website.

If you cannot remember your login- go here and follow the steps to access your account.

If you are new: click CREATE ACCOUNT button and follow the directions on this page.

Step 2

New Users: Complete all necessary fields on the "Create an account" screen and;

*Please note* you must add your member facility name to your login*

Once you are in and can see your name in the upper left hand corner, you are ready to add this product to your cart and checkout.

Step 3

Almost there!

Click the green "register" button.

Click the blue COMPLETE REGISTRATION NOW, Fill out the registration and payment details and voila! The products are yours to use indefinitely and can be found in your dashboard (shown on the left hand side of the web page).

Need further help? Email us at educate@ahca.org

We'll walk you through it.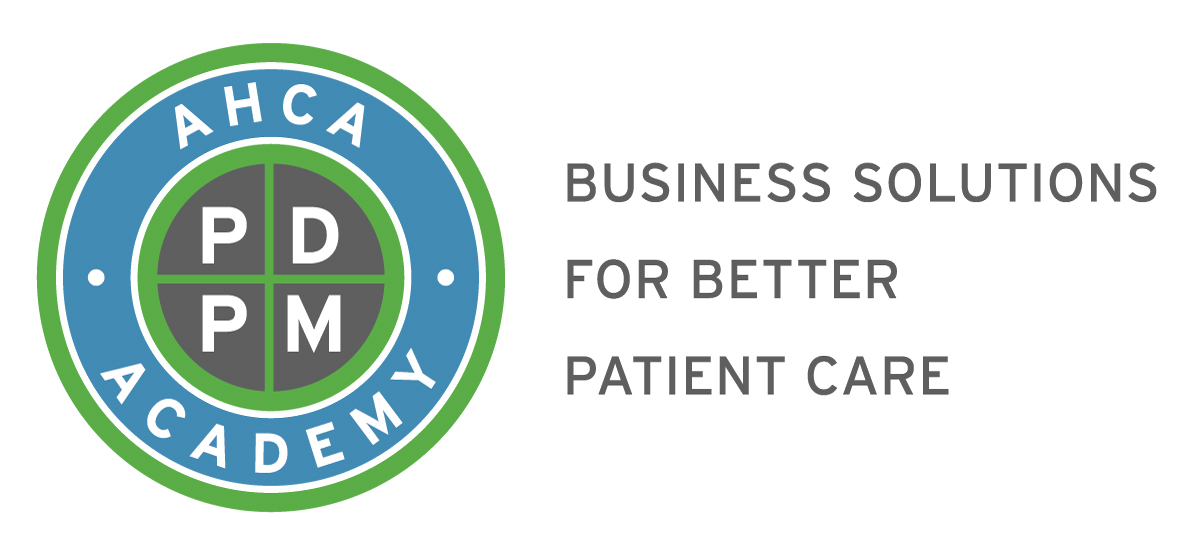 The Virtual PDPM Training Class Can Help You Get Ready Now for October 1!
The new patient driven patient model (PDPM) begins October 1, 2019. Patient clinical characteristics in totality will determine payment so the need for quick and highly accurate assessment and diagnosis will be critical. Payment will no longer be focused on therapy minutes and ADLs but instead will rely on over 180 MDS item fields. Failing to accurately code patient needs will have a significant impact on adequate and accurate payment for high quality care. Staff roles must change to operate effectively under PDPM.
Registration for the Virtual PDPM Training also includes access to the online PDPM ACADEMY where updates, tools, webinars, and other supporting materials are housed. You will also be able to join in the free monthly webinars designed to provide additional training and PDPM updates.
NAB approved CEs have been requested.
**Members who register for the PDPM Virtual Training understand that the training and all supporting materials within the Academy are copyrighted and should not be shared.
Registration Fees: $350
Please note: only provider members of AHCA may register.
Who should register: To be successful with PDPM, Administrators, MDS/billing staff, nurses/DONs, and therapists must be included in the training and education process.
Estimated time to complete the course videos:
Overview: 9 minutes
Module 1: 1 hour and 40 minutes
Module 2: 22 minutes
Module 3: 3 ours and 30 minutes
Module 4: 43 minutes
Since this is an interactive workshop simulation that includes multiple pauses to practice workshop activities, learners should plan on budgeting an additional 20-25% time to the module running time to complete the modules, especially Modules 1 and 3.
AHCA's recommends a slow deliberate pace as trainees move through both the virtual PDPM Academy workshop. To aid with placing the PDPM ICD-10 content on perspective, we recommend watching the following pre-recorded webinars:
PDPM Academy Workshop, What to Expect (5 minutes)
PDPM Basics (32 minutes)
Payment Case Examples (20 minutes)
SNF Benefit Review & Interaction with Existing SNF Policies/Programs (17 minutes)
"How-To" Use CMS ICD-10 PDPM Crosswalk Tables (22 minutes)
Administrator's Role in PDPM Training (19 minutes)
You can access this free training here, Patient Driven Payment Model (PDPM) Workshop Pre-Requisite Webinar Modules
How can an organization register and pay for more than one individual?
One user can purchase multiple registrations for other users by adding them to their cart during the checkout process; using the button displayed in image below. (This can only be done if all individuals have an ahcancalED account.) The price of the training will be based on each registrant's member type (member or non-member).

*payment tip: please be sure when you are paying with a credit card the bill-to and shipping address are the same*
Group discounts are not offered for this training.
If you need assistance, please email educate@ahca.org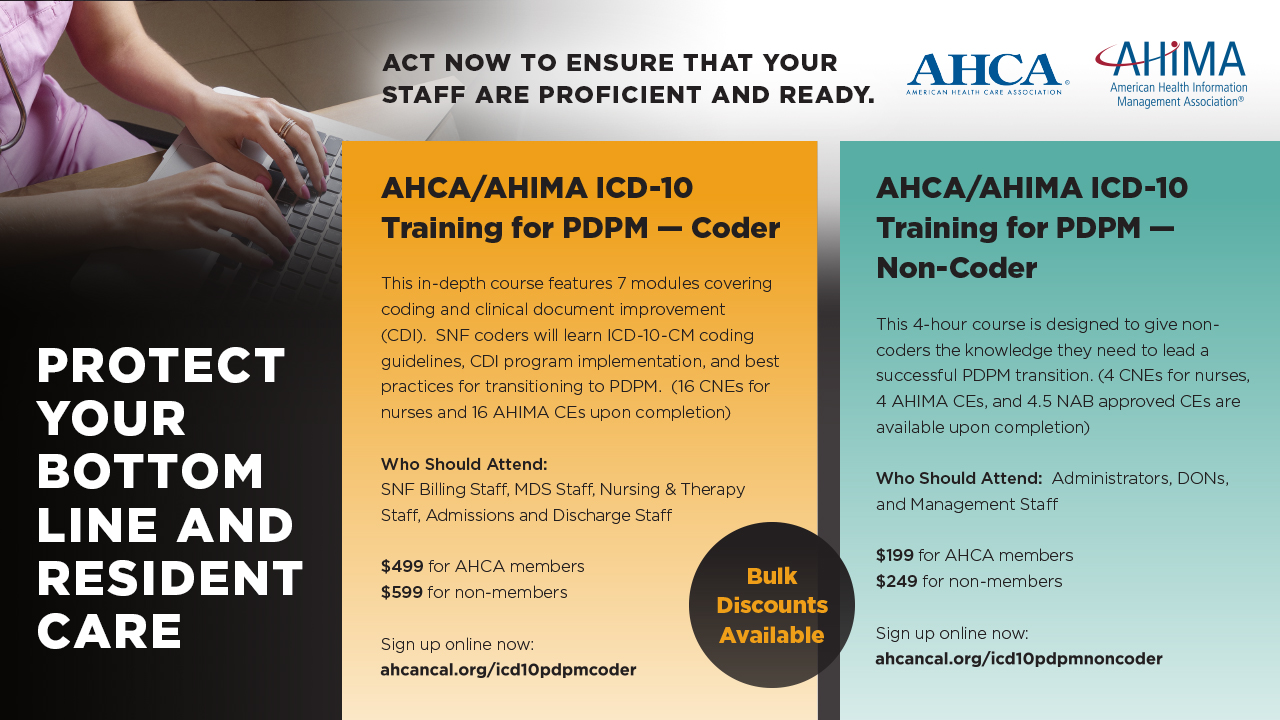 Components visible upon registration.

RETURN TO HOME