Grief, Trauma, & The Impact of COVID-19 on Residents & Staff
Register

Non-member - $450
Member - $100
*Further discounts may apply once you log in.

COVID-19 has rocked the country and the globe. With tens of millions of confirmed cases, hundreds of thousands of deaths, and countless people who have been directly and indirectly impacted it is no wonder why trauma and grief are so high. COVID-19 is not choosey as to who it targets but is like a wildfire burning out of control. Regardless of whether you are in the trenches battling against the war or seeking isolation to prevent the virus from reaching you every person has been impacted. This three part training will provide a comprehensive overview of COVID-19, as well as grief and trauma and the impact it has on residents and staff. The first part will review COVID-19 and the impact it has on the grief process. Participants are encouraged to review all three parts to gain the full insight of the impact COVID-19 has had and the connection to grief and trauma. The second part will review COVID-19 and the impact it has on trauma as well as providing trauma-informed care to both residents and staff. The third part will review the core practices for providing care to both residents and staff and the relationship to trauma, grief, and COVID-19.

Total course objectives/outcomes include:
Explain the basics of how COVID-19 spreads and how to reduce potential spread.
Describe the grief process.
Identify the five common stages of grief and how they apply to COVID-19.
Discuss anticipatory grief and the relationship to COVID-19.
Explore methods to manage grief during COVID-19.
Explain trauma as it relates to COVID-19 and its impact.
Explore trauma-informed care and the correlation to COVID-19.
Discuss the Core Practices and the relationship to COVID-19 care.
Describe the process for bringing it all together to provide care to residents and staff.
Discuss the Core Practices and the relationship to COVID-19 care.
Continuing Education:
3.50 NAB approved CEs are available upon completion and 3.0 contact hours for nurses through the Iowa Board of Nursing.

Cost:
$100 for AHCA/NCAL Members
$450 for general public/ non-members
Audience:
All staff and leadership in long-term care facilities
How to Register:
If you are new to this site, you will need to CREATE AN ACCOUNT. AHCA/NCAL members will need to add the facility name to their profile at the time of creating an account. If you cannot locate your facility by name, then search by zip code. Non-Members, you are welcome to add your company name. If you do not see it listed, please email educate@ahca.org and we will help you.
Members who have an existing account can login using their existing AHCA/NCAL username and password. Once you are logged in to the website you will be able to register. If you have forgotten your password click here. If you are new to the site you can create an account here. After doing so, you will be able to register for the webinar.
After you create your account, go back to the course and click REGISTER. You will then be prompted to complete the payment process in your cart.
Once you have purchased the course, it will be conveniently located in your "My Dashboard". To begin the course, click the Course contents tab. Then click on the first item and complete it. You can move through the course at your own pace, stopping and returning to where you left off anytime.
To avoid technical problems, use CHROME. Do not use Internet Explorer. Internet Explorer does not work well with this site.
If you need assistance, please e-mail your questions to educate@ahca.org. We will get back to you as soon as possible.
For additional resources, visit
How can an organization group register and pay?
AHCA offers the following discount structure for groups:
5-9 - $10 off each
10-19 - $15 off each
20 or more - $20 off each
To register by Check, follow these instructions:
Email educate@ahca.org to request a payment form. A representative at this email address will forward to you a payment form and spreadsheet.
Both payment form and spreadsheet detailing individual registrants should be returned to educate@ahca.org.
The payment form along with full payment should be remitted to AHCA/NCAL, ATTN: Finance Department, 1201 L Street, NW, Washington, DC 20005.
Once payment is confirmed and registrant information has been processed, individual registrants will receive an e-mail from educate@ahca.org with information to access the Grief, Trauma, & The Impact of COVID-19 on Residents & Staff Training.
Please contact educate@ahca.org if you have any questions.
When purchasing online with credit card, follow the instructions below. Please note, this option is for groups with less than 5. The discount noted above will not apply.
Please use Google Chrome for the best user experience. One individual can purchase multiple registrations for more participants by adding them to their cart during the checkout process. Please note, for this option to work, every participant will need to have an ahcancalED account first.
To add several participants, please click the green button in the cart that says:

.
You will then be able to search for more than one participant using their email address. If the person making payment should not have access to the course, then you can remove yourself by clicking the red "remove" button by your name.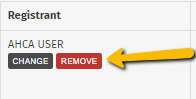 *Payment Tip: The price of the training will be based on each registrant's member type (member or non-member). please be sure when you are paying with a credit card the bill-to and shipping address are the same*
If you need assistance, please email educate@ahca.org
Components visible upon registration.

RETURN TO HOME