Learning, Inspiring, Sharing
Part 3: Unintended Healthcare Outcomes - Building Prevention Into Every Day Practice: A Framework for Successful Clinical Outcomes
Recorded On: 11/16/2016
Register

Non-member - Free!
Member - Free!
After the OIG Report that shed light on several areas of care that put residents at risk, providers immediately got to work developing systems and responses that would help to minimize these unintended healthcare outcomes. Part 3 of the Quality Initiative Series focuses on clinical care, nutrition and team strategies that can make an immediate difference in the lives of residents. Additionally, The Association's Clinical Practice Committee designed a framework that outlines guiding elements such as individualized care approaches, effective transitions of care, QAPI concepts, safety, risk management, team-based care, and diagnostic quality that will support your efforts in fulfilling the Requirements of Participation. Discover what the Hillcrest team has done to succeed in this valuable program on reducing unintended healthcare outcomes.
Join Dr. David Gifford, Dr. Anna Fisher, Joe DiMinico, RN, Admin, Jason Hagarty, Culinary Coordinator and Roxanne Dai in Part 3 of our series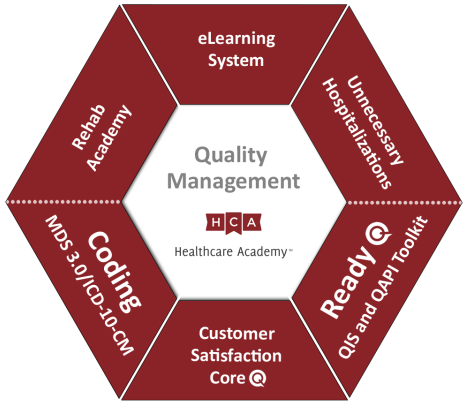 Special Thanks to Our Sponsors
Dr. Anna Fisher, DHA, CMDCP, CDP
Director of Quality and Education. Hillcrest Health Services
Dr. Anna Fisher, DHA, CMDCP, CDP, is a Certified Montessori Dementia Care Practitioner and Director of Quality & Education at Hillcrest Health Services and is responsible for quality and education services for assisted living, memory support, adult day services, in-patient rehabilitation, outpatient therapy, home health care, private duty, telehealth, hospice, and skilled nursing care. She is also an adjunct professor in the College of Arts and Sciences at Bellevue University.
Dr. Fisher is a Clinical Practice Committee Member, Emergency Preparedness Committee Member, and Silver Quality Award Senior Examiner for the American Health Care Association (AHCA) / National Center for Assisted Living (NCAL). Most recently, she serves as a leadership member of the Pioneer Network Artifacts 2.0 Advisory Group, Nebraska Culture Change Coalition, and the Developmental Disabilities Aging Coalition.
In this webinar, Dr. Fisher will discuss QAPI and how health care communities can oversee and review their pain management approaches, including the use of opioids to treat pain as well as the expectations of surveyors and how facilities should address pain issues.
$i++ ?>
David Gifford, MD, MPH
Senior Vice President of Quality and Regulatory Affairs, AHCA
Senior Vice President of Quality and Regulatory Affairs, AHCA David Gifford, MD, MPH, is a geriatrician and former medical director of several nursing homes in Rhode Island. He currently serves as the Senior Vice President of Quality and Regulatory Affairs at the American Health Care Association. He helped create the Quality Department at AHCA which assists providers in their quality improvement efforts and works with administration officials on regulations and policies impacting the profession. Dr. Gifford also serves on the Board of the Advancing Excellence in America's Nursing Homes campaign and the Baldrige Foundation Board. He is a former Director of the Rhode Island State Department of Health, where he received the National Governor's award for Distinguished Service Award for State Officials. Prior to that he served as Chief Medical Officer for Quality Partners of Rhode Island where he directed CMS' national nursing home-based quality improvement effort. He also holds a faculty appointment at Brown University Medical School and School of Public Health. He received his medical degree from Case Western Reserve University and conducted his geriatric fellowship at UCLA where he also earned his Master's in Public Health while a Robert Wood Johnson Clinical Scholar.
$i++ ?>
Joe DiMinico
RN, Administrator of the Cottages at Hillcrest Country Estates
Joe DiMinico joined Hillcrest Health Services in 2011 and is currently the Administrator of the Cottages at Hillcrest Country Estates. Joe is a Registered Nurse with experience in geriatric health care management and oversees a very innovative community of eight "household model" long-term care cottages and one post-acute rehabilitation cottage.
$i++ ?>
Roxann Dai
Nurse Technician
Roxann has been with Hillcrest Health Services for 6 1/2 years.Her position with Hillcrest is a Nurse Tech, and she is also finishing up her Medication Aide classes.She has been nominated for employee of the month, employee of the year, and was a national finalist for CNA of the year through Cerner.
$i++ ?>
Jason Hagarty
Culinary Coordinator
Jason Hagarty is the Culinary Coordinator with Hillcrest Country Estates at the Rehab Cottage since March 2014. Jason developed and designed menus and set up programming for the CBORD dietary food ordering system. Jason has three years experience with CHI Health Systems as Team Lead of Food and Nutrition, and initiated and implemented the new "Aladdin" Re-Therm food system throughout all CHI hospitals in Nebraska.
$i++ ?>
Components visible upon registration.

RETURN TO HOME