Learning, Inspiring, Sharing
Part 4: Staff Stability
Recorded On: 01/25/2017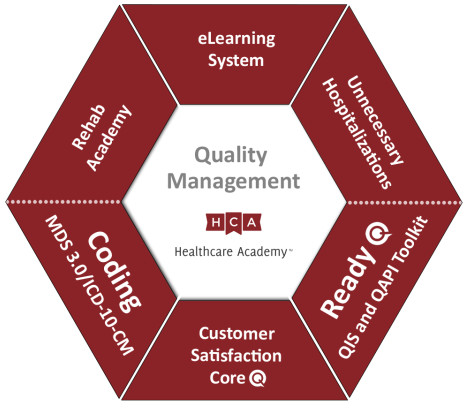 Thank you to our Sponsor!
Having consistent, high quality, engaged staff is essential to produce the clinical outcomes needed to succeed in value-based health care and coordinated care delivery systems. As regulators, consumers, business partners, and other stakeholders place great emphasis on staffing levels, person-centered care, and preventing avoidable adverse events, stable and engaged staff are the necessary preconditions for business success. This series is designed for active learning and practical application, with short presentations, video clips, case studies, and discovery assignments.
This program was developed by Barbara Frank, Ruta Kadonoff, Urvi Shah-Patel and Wendell Anderson whose insight will provide users with many helpful tips and ideas to strengthen their staff stability.

Solutions for Long-Term Care Facilities
Healthcare Academy provides industry-leading online training for the long-term care industry. With a dynamic array of innovative, powerful tools at your fingertips, Healthcare Academy can help dramatically improve your organization's educational efficiency, accuracy, quality and satisfaction.
Barbara Frank
Co-Founder
Barbara Frank, with B&F Consulting co-founder Cathie Brady, helps long term care communities be better places to live and work. They provide on-site assistance and serve as faculty for state and national learning collaborative to improve staff stability, care outcomes, and overall organizational performance. For Quality Partners of Rhode Island, they led a CMS-funded pilot using individualized care and staff engagement to improve quality of care outcomes. They co-produced a Staff Stability Tool-kit and the four part CMS web series "From Institutional to Individualized Care." B&F led a team in the New Orleans Nursing Home Staffing Project, which helped nursing homes recover from the aftermath of Hurricane Katrina, and co-produced a film with Louisiana Public Broadcasting called The Big Uneasy: Katrina's Unsung Heroes. They were faculty for a Pioneer Network learning collaborative in which 49 nursing homes incubated performance improvement through use of key systems to support communication and teamwork. They supported four states to assist 19 nursing homes to stabilize and improve through an Advancing Excellence Critical Access Nursing Home Initiative. Barbara facilitated the first Pioneer Network gathering in 1997, and in 2005 she facilitated the St. Louis Accord, a national gathering of provider, consumer, regulator, and quality improvement organizations that came together set a course for state and national work to improve clinical outcomes through staff stability and culture change. With David Farrell and Cathie Brady, she co-authored Meeting the Leadership Challenge in Long-Term Care: What You Do Matters (Health Professions Press 2011).
$i++ ?>
Ruta Kadonoff
Senior Program Officer, Maine Health Access Foundation (MeHAF)
Ruta Kadonoff, MA, MHS is Senior Program Officer with the Maine Health Access Foundation (MeHAF), the state's largest private, nonprofit health care foundation. MeHAF's mission is to promote access to quality health care, especially for those who are uninsured and underserved, and to improve the health of everyone in Maine. Ruta leads the foundation's program department and also manages the Thriving in Place (TiP) initiative, which helps people with chronic health conditions (including the elderly and persons with disabilities) maintain or improve their health so they can remain independent and safe in their homes and communities. To promote this goal, TiP brings health care, social and community services, and volunteer networks together so they can coordinate, streamline, and improve the efficiency and effectiveness of their efforts to meet the needs of community members.
Ruta has over 20 years of experience in national organizations fostering and advocating for quality improvement and person-centered care and services for older adults. She has worked in policy, research and practice with diverse organizations including Pioneer Network, American Health Care Association, The Green House Project, the US Department of Health and Human Services, Leading Age, and Abt Associates.
Ruta received her Master of Arts degree in the Management of Aging Services from the Erickson School of Aging Studies at the University of Maryland Baltimore County and a Masters of Health Science degree in Health Policy from Johns Hopkins University's Bloomberg School of Public Health.
$i++ ?>
Wendell Anderson
CNA
Wendell Anderson is a professional CNA and member of the Steering Commission at NAHCA. He offers a unique perspective on staff stability.
$i++ ?>
Our thanks to Barbara Frank and Cathie Brady of B&F Consulting for developing the many tools and resources found here at Staff Stability on ahcancalED.These national experts have offered support, instruction and guidance to associations, QIO's, Veteran's Administrations, corporations and independent owners as well as having led several national pilot projects for CMS.
Vast numbers of centers, and their staff, have discovered a new path to quality and success through their cutting edge programs on leadership dynamics, team building, and nursing home operations. Their stimulating and interactive workshops focus on the process of creating change. They are authors, along with David Farrell, of The Leadership Challenge for Long Term Care
They can be reached at www.BandFConsultingInc.com
Components visible upon registration.

RETURN TO HOME