Office Hours
Our office hours: Monday through Friday 9AM - 4PM EST
Closed: Weekends and major Holidays. Emails received during this time period will receive a response the next business day
Memorial Day - Monday May 29, 2023
Juneteenth - Monday June 19, 2023
Independence Day - Tuesday 4, 2023
Labor Day - Monday Sept. 4, 2023
Thanksgiving - Thursday Nov 23, 2023
Day after Thanksgiving - Friday Nov 24, 2023
Christmas Day - Monday Dec 25, 2023


Technical Requirements
You must be using a browser other than Internet Explorer for the site to function properly. If you are using Internet Explorer, please switch to another browser such as Google Chrome, Mozilla Firefox, or Safari. If you do not have one of these browsers, click one of the following links to download and install:

Having trouble viewing things on the site? Try clearing your cache as the first step in troubleshooting.
How do I log into my account?
1. If you already have an AHCA/NCAL account, click the LOG IN button to the left of the screen.
2. Enter your email and password and voila! You will be magically transported to ahcancalED.
3. If you are new to the website, create an account here and follow all prompts on this page.
4. If you need help retrieving your login, click here.
How do I test my browser?
Go to www.ec.commpartners.com and click on the Support Tab in the top left, once expanded click "Run Test." You should see a Congratulations message. Click "Click Here" to take the second part of the test. Once the second part is loaded you should hear a pre-recorded audio message. If your browser does not pass the first part of the test, go to get.adobe.com/flashplayer/ to download the required Adobe Flash software. Once at the site, go to the "Downloads" menu at the top and choose "Get Flash Player."
How do I register more than one person for a course?
One individual can purchase multiple registrations for more participants by adding them to their cart during the checkout process. Please note, for this option to work, every participant will need to have an ahcancalED account first.
To add several participants, please click the green button in the cart that says:

.
You will then be able to search for more than one participant using their email address. If the person making payment should not have access to the course, then you can remove yourself by clicking the red "remove" button by your name.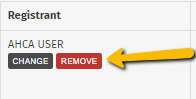 What types of education products are available?
All kinds! There are educational training, webinars, videos, journal articles, interviews with experts. Each has unique features. Be sure to browse.
How do I sign up for an upcoming webinar, course, or event?
First, log into the site. Once you find the session you'd like to view, click on the title or click "More Information" to view the session description, learning objectives, and speaker information. If you want to proceed, click the green "Register" button. A pop-up will display asking: ADD TO CART AND STAY ON PAGE or COMPLETE REGISTRATION NOW. Clicking the green link immediately takes you to the registration page. The blue button, on the other hand, is akin to window shopping. You can choose multiple items you might like to view and when ready go to the green button to acquire them.
What does it cost?
Joining ahcancalED is free to AHCA/NCAL members. The site contains a variety of long and short-form courses, toolkits, and resources; AHCA/NCAL strives to offer a balance of free and pay for content.
Who can use ahcancalED?
ahcancalED is an AHCA/NCAL member benefit created for their use. AHCA/NCAL will occasionally offer some critical educational offerings to non-members as a benefit for the profession.
What do I do if I experience a problem when I'm logged in?
If you are already logged into an event and experience a problem (slides stop advancing, streaming audio stops/fails, etc.), please follow the steps below: Try clicking the "refresh" button in your web browser. It looks like a circle with arrows. Clear the cache in your web browser. Then close your web browser completely. Open your web browser again and try logging into the event again.
How do I view an archived session?
Once you complete your registration, please go to my saved work section, select the event, and click on "View Web Content On-Demand" icon on the right of the web page to view the presentation.
How do I view sessions?
Once you complete your registration, please go to my saved work section, select the event, and click on "Enter Meeting" icon on the right of the web page to view the presentation.
Where do I find all the sessions I registered/
attended?
All the sessions you registered for/ attended can be found in the my saved work section.
Can I cancel my order?
Yes. Simply delete it from your cart before checking out. However, if a course or product was purchased, all sales are final and not eligible for refund.
How are the sessions on the "Recommended" page selected?
Products recommended for you are based on your interest categories as defined in your profile. To define/ edit your interest areas, please visit My Profile section.
How do I edit my profile?
When you are logged in on ahcancalED, click "Profile". In the profile, you should see "Click here to edit your profile on remote system" right on top of your email address. Click the link to be directed to the page where you can update the information shown in your profile.
Can I get CEU certificate for the webinar/session I attend?
ahcancalED contains products that offer certificates of completion as well as CE course options. Checking out the Training portion of the site to review CE course options.
What is the refund policy?
Once a course or product is purchased, all sales are final and not eligible for refund
Who do I contact if I still have questions?
Need Additional Help
Contact educate@ahca.org and we'll walk you through it.
Our help team will review your request and will be in touch with you very soon. Our mailboxes are monitored continuously between the hours of 9 AM EST to 4 PM EST and you will receive a reply during those hours.
Our office hours: Monday through Friday 9AM - 4PM EST
Closed: Weekends and major Holidays. Emails received during this time period will receive a response the next business day
Memorial Day - Monday May 29, 2023 Juneteenth - Monday June 19, 2023 Independence Day - Tuesday 4, 2023 Labor Day - Monday Sept. 4, 2023 Thanksgiving - Thursday Nov 23, 2023 Day after Thanksgiving - Friday Nov 24, 2023 Christmas Day - Monday Dec 25, 2023
| Access Date | Quiz Result | Score | Actions |
| --- | --- | --- | --- |

RETURN TO HOME