Improving Staff Resiliency and Retention: An Action Plan that Works
Register

Non-member - $249
Member - $199
*Further discounts may apply once you log in.
Working in post acute and long term care is incredibly rewarding. It is also stressful due to the demands and pressures that are faced on a daily basis. The workforce crisis and COVID-19 have exacerbated this stress creating even more challenges for those who work in long term care. This course is aimed at reinvigorating your passion for long term care by providing you with tools and resources you can immediately use to decrease your perceived stress levels and help your team members do the same to aid with staff retention. Self-care is essential and is the key to self-managing stressful situations. If you are not taking care of yourself first, how can you be expected to take care of others? It is time to put yourself first! Mindfulness-based stress reduction learned in this training can help put self-care back into your daily routine and support you in doing what you do best.
Course Objectives:
Identify what stress is.
Identify why we fail at self-care.
Examine the importance of self-care.
Describe the mindfulness-based stress reduction (MBSR) program.
Discuss how to use the MBSR program to improve staff retention, resiliency, and improve job satisfaction.
Describe how to establish a MBSR program peer support group.
Discuss the sustainability of MBSR programs.
Identify which MBSR program strategy you can implement today to decrease your stress.
Presenter: Pamela Truscott, MSN/Ed, DNS-CT, QCP, RAC-CT, CDP, Director, Clinical and Regulatory Services
Cost:
$199 for AHCA/NCAL members
$249 for non-members
Additional discounts are available for groups 26+
3.50 NAB CEs and 3.0 contact hours through the Iowa Board of Nursing are available upon course completion.

---
© 2022 American Health Care Association. All rights reserved.
All Improving Staff Resiliency and Retention: An Action Plan that Works materials subject to this copyright may be photocopied or distributed for the purpose of nonprofit or educational advancement. The use, photocopying, and distribution for commercial purposes of any of these materials is expressly prohibited without the prior written permission of American Health Care Association.
Components visible upon registration.
Please use Google Chrome for the best user experience.
One individual can purchase multiple registrations for more participants by adding them to their cart during the checkout process. Please note, for this option to work, every participant will need to have an ahcancalED account first.
To add several participants, please click the green button in the cart that says:

.
You will then be able to search for more than one participant using their email address. If the person making payment should not have access to the course, then you can remove yourself by clicking the red "remove" button by your name.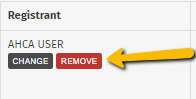 *Payment Tip: The price of the training will be based on each registrant's member type (member or non-member). please be sure when you are paying with a credit card the bill-to and shipping address are the same*
If you need assistance, please email educate@ahca.org

RETURN TO HOME