Self-Care: The Secret to Surviving!
Register

Non-member - $65
Member - $25
*Further discounts may apply once you log in.
Long term care facilities are incredibly stressful environments. Working with people can be stressful. The staffing crisis and COVID-19 have exacerbated the stress creating even more challenges for those who work in long term care. This session is aimed at reinvigorating your passion for long term care by providing you with tools and resources you can immediately use to decrease your perceived stress levels and help your team members do the same. Self-care is absolutely essential and is the secret to surviving stressful situations. If you are not taking care of yourself first, how can you be expected to take care of others. It is time to put yourself first!
Learning Objectives:
After attending this session, participants will be able to:

Identify stressful situations within their environment.
Employ stress reduction techniques that work.
Decrease their overall perceived stress levels.
Presenter:
Pamela Truscott MSN/Ed, DNS-CT, QCP, RAC-CT, CDP
Cost:
$25 AHCA/NCAL Members
$65 Non-members
This 34-minute learning session does not come with CEs.
---
© 2022 American Health Care Association. All rights reserved.
All Self-Care: The Secret to Surviving! materials subject to this copyright may be photocopied or distributed for the purpose of nonprofit or educational advancement. The use, photocopying, and distribution for commercial purposes of any of these materials is expressly prohibited without the prior written permission of American Health Care Association.
Key:

Complete

Next

Failed

Available

Locked
4 Questions
Please assist us in improving these materials by providing feedback.
Certificate of Completion
No credits available | Certificate available
No credits available | Certificate available
Please use Google Chrome for the best user experience.
One individual can purchase multiple registrations for more participants by adding them to their cart during the checkout process. Please note, for this option to work, every participant will need to have an ahcancalED account first.
To add several participants, please click the green button in the cart that says:

.
You will then be able to search for more than one participant using their email address. If the person making payment should not have access to the course, then you can remove yourself by clicking the red "remove" button by your name.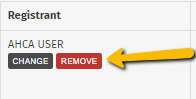 *Payment Tip: The price of the training will be based on each registrant's member type (member or non-member). please be sure when you are paying with a credit card the bill-to and shipping address are the same*
If you need assistance, please email educate@ahca.org

RETURN TO HOME