Learning, Inspiring, Sharing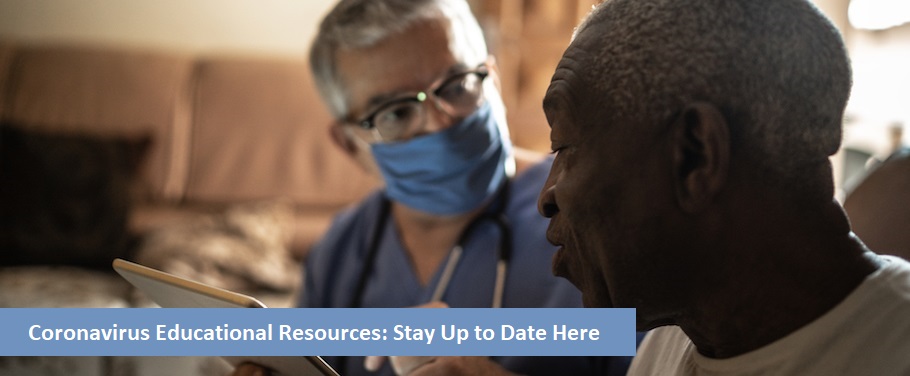 In response to the coronavirus (COVID-19) pandemic, we are working nationally with the Centers for Disease Control (CDC) to ensure nursing homes, assisted living communities, and intermediate care facilities for individuals with intellectual disabilities receive necessary supplies and guidance to prevent the spread of this disease.
Visit this website regularly for the latest information that AHCA/NCAL has to share with long term care providers about COVID-19.
Newly Updated
COVID-19 - Overview of SNF 3-Day Stay and Benefit Period Waivers
PRF Reporting Requirements – Updated with HHS FAQs, November 23
Webinars
COVID-19 Monoclonal Antibody
Available to AHCA/NCAL members only
In this series of office hours, AHCA/NCAL will provide an overview of the COVID-19 Monoclonal Antibody and review what facilities need to know about the COVID-19 treatment. There will be a question and answer session at the end.
Pharmacy Partnership for Long-Term Care Program for COVID-19 Vaccination Office Hours
Free to AHCA/NCAL and general public.
What's New With The Families First Coronavirus Response Act (FFCRA) and How it Impacts Long Term Care
On this webinar, AHCA/NCAL DOL consultants from Jackson Lewis, Craig S. Roberts, Principal, and Henry Shapiro, Associate will answer questions on the FFCRA impacting long-term care.
DISCLAIMER: This is not intended as legal advice and should not be used as or relied upon as legal advice. It is for general informational purposes only and should not substitute for legal advice. Always seek knowledgeable counsel for advice that is tailored to the actual facts and circumstances and takes into account all relevant law and regulation.


CMS's COVID-19 Performance Payment Program
AHCA/NCAL President & CEO Mark Parkinson and CMO David Gifford will review the new rule released on 9/3/2020, discuss resources available to facilities and answer your questions.
Understanding Batch Testing with the Quidel Sofia2
CMS' new testing regulations require providers to conduct routine COVID-19 testing of staff and contractors with 48-hour turnaround times. The Sofia2 has the ability to conduct a high volume of tests in a short period of time. This presentation will cover the batch testing functionality on the Sofia2 to help providers meet this new CMS requirement.


CMS's New Testing Requirements for Staff & Residents: What you Need to Know
AHCA's President & CEO Mark Parkinson and CMO Dr. David Gifford will explain the interim final rule released this week, detailing what providers must do to be in compliance and how to successfully implement the new requirements.


HHS Provider Relief Funds Webinar
Mark Parkinson and team provide details on upcoming COVID-relief distributions to SNFs from the Provider Relief Fund. This webinar is for AHCA/NCAL SNF provider members only.
Currently, the 8-hour training program is permitted under special waivers, exceptions, or flexibilities for temporary nurse aide roles in these states:
Delaware, Indiana, Iowa, Maryland, Nebraska, New Jersey, New York, Texas and West Virginia
Additional training or other actions may be required in these states (please contact your state health care association or appropriate state agency for additional information about your state's requirements):
Alabama, Connecticut, District of Columbia, Georgia, Illonois, Kansas, North Carolina, New Hampshire, Mississippi, Pennsylvania, South Carolina, Tennessee and Virginia
GO HERE FOR THE FREE 8 HR COURSE
If you plan to work in the state of Oklahoma you will need to take the free 16-hour course.
GO HERE FOR THE FREE 16 HR COURSE
If your state is not listed above, check back often as more states are being added to the list weekly. You may also contact your state health care association for additional information about your state's requirements. Find your state health care association here.
*DISCLAIMER*: AHCA/NCAL has created this course to assist providers to recruit and train temporary staff during the national emergency caused by the coronavirus pandemic. Federal and/or state requirements may need to be waived to permit individuals under this training program in your location. Employers should check with their state survey agencies and their state occupational licensing agencies, where applicable, to ensure individuals trained under this program are permitted to assist with care in your location.
CDC Launches LTC Frontline Staff Training Webinars
The resources below are for frontline staff in long-term care facilities. These short webinars are all published on the Key Strategies to Prepare for COVID-19 in Long-term Care Facilities (LTCFs) web page at the bottom under a "Webinar Series" section. These new webinars are intended to be a training tool/resource for frontline long-term care staff members.


The Joint Commission recognizes the incredible challenge that health care organizations and front-line workers face with the COVID-19 crisis. Visit their website for more information.
| Access Date | Quiz Result | Score | Actions |
| --- | --- | --- | --- |

RETURN TO HOME